On the 31st a Buzzard used our fence post.


Hopefully it will do it again so I can get an in focus picture.



There was an Eider off Lainne Sgeir, Calgary and 2 Common Scoters off the 'pink' pier, Calgary. There was a flock of over 200 Starlings at Ensay in late afternoon and after dusk Tawny Owls were heard from Treshnish Old Schoolhouse.
On the 30th there was 1 Golden Eagle on Cruachan Treshnish and at 4pm a flock of over 200 Starlings at Treshnish cow-barn. At night a Tawny Owl was heard from Treshnish Old Schoolhouse.
I have created a new link to my Fungi photos on the column on the right under FUNGI or
here. So far there are very few but slowly slowly I hope to build on it. The Hazel Gloves have their own folder.
At night very few moths came to the light-trap (6 individuals). This is a Feathered Thorn


and this shows how it got its name,


this is Autumn Green Carpet,


and this Autumnal Moth, a member of the difficult to identify group, the Epirrita.

On the 29th there were about 300 Starlings on the electric wires outside of the Studio.
I took a spore print of one the fungi I thought was probable Yellow Club Clavulinopsis helvola. It had the right size spores and they were knobbly as they should be so I am happy with that identification.


For some reason the strange looking apricot-coloured one did not seem to produce any spores but I will try looking again tomorrow.
On the 28th as I was looking to find out what this jelly could be I found this BBC news story. Why the presenter should call it litter, I don't know.


I found it yesterday on the cliff tops near Lainne Sgier, Calgary. I have seen it before and thought it might be a jellyfish brought there by a gull or a fungus but apparently no one knows what it is.
On the 27th there were 2 Common Scoters and 1 Eider off the 'pink pier', Calgary bay and a Great Northern Diver moulting into winter plumage a little further to the west.
I took more photos of the strange looking fungus from 2 days ago


This keyed out as Snowy Waxcap Hygrocybe virginea, it is common in pasture,


this is Earthy Powdercap Cystoderma amianthinum,

and this is probably a Collybia species.


Alder catkins were out but my photos were blurred, I will try again tomorrow.
On the 26th I managed to measure the spores of the Earthtongue fungus (see photo on the 7th and of spores on 15th). It appears that it is Dark-purple Earthtongue Geoglossum atropurpureum. It is my first identification by microscope. It was a bit of a surprise as I had missed it in the Mull Flora where it was listed under an older name. Although it does not appear to be common in Britain (see here), the Flora has it as frequent. (On that map link the Mull records are not shown).
On the 25th there were 2 Turnstones at Lainne Sgeir, Calgary, 2 Common Scoters off the 'pink' pier Calgary, 2 Eiders near Calgary beach and 1 Redwing near the boathouse at Calgary. There was 1 Sparrowhawk at Ensay Burn mouth.
A Red Deer stag was seen chasing a couple of females and roaring above Lainne Sgeir.
Hazel catkins are in bud.


This fungus was found knocked over on the farm-track through Treshnish wood. Eventually I come to the conclusion it is Blewit or Wood Blewit Lepista nuda. It is apparently very good to eat.


On the cliffs to the east of Lainne Sgeir, there was a patch of Golden Spindles fungus Clavulinopsis fusiformis along with probable Yellow Club Clavulinopsis helvola and this as yet unidentified fungus, which may be Apricot Club Clavulinopsis luteoalba.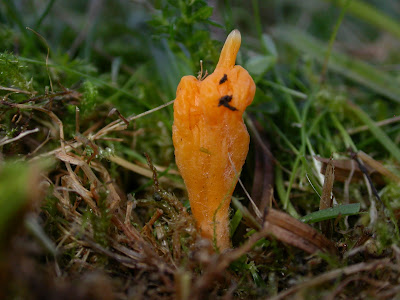 On the 24th there was a flock of about 30 Waxwings flying east over Treshnish wood which were re-located around Ensay farmhouse. Apparently a flock was also there yesterday.
There was a flock of about 100 thrushes flying from the northeast to Treshnish wood. They flew around the wood and the adjacent fields and looked as though they were going to land. There were Mistle Thushes and Fieldfares amongst them and soon after 12 Fieldfares and 3 Mistle Thrushes were flying around Treshnish House. These are our first Fieldfares of the season.
There were 2 Golden Eagles over Treshnish wood and a flock of Siskins and 2 Greenfinches in Treshnish wood.
There were 2 Common Scoters in Calgary bay, off the 'pink' pier. This could be the same pair which were present (at least) from the 2nd to 20th of November last year.


There was 1 summer plumaged Great Northern Diver opposite Lainne Sgeir and 17 geese (presumably Greylags) flew out from Calgary bay around towards offshore Caliach Point.
There were 2 Otters to the east of Lainne Sgeir. Both were swimming to the shore from out in the bay, one of them carried a fish to the shore where they both disappeared behind a small coastal cliff.
Walking along the cliffs to the west of Lainne Sgeir, Calgary I found several more spots of Golden Spindles fungus Clavulinopsis fusiformis.


This looks similar but has a blunt tip and could be Yellow Club Clavulinopsis helvola or Apricot Club Clavulinopsis luteoalba,


and this is another of this family but it is branched, Meadow Coral Clavulinopsis corniculata.


On the 23rd there were 4 Waxwings over Treshnish wood at 3.30pm and later at about 6pm, guests at Toechtamhor cottage, Haunn saw at least 3 there. Hopefully they will be still be around tomorrow. This is the first for this species in the Treshnish 10x10km square. the nearest records are from Dervaig and Salen. There were 2 adults and 1 juvenile Golden Eagle together on Cruachan Treshnish. At 6pm there was a flock of about 100 Starlings performing the nightly roost flight at Treshnish Point.
On the 21st whilst photographing lichen I found this example of Glue Fungus, Hymenochaete corrugata on the same hazel as Hazel Gloves fungus (not visible in photo) with which it is closely associated. This one is gluing together 2 quite large living branches; often it glues smaller, fallen or dead twigs and branches.


On the 20th there were 2 Golden Eagles on Cruchan Treshnish and a Buzzard was hovering (technically flying into the wind with the odd wingbeat) over the wood above Treshnish boathouse but it was holding a large bunch of presumed vegetation. It had the material for at least 2 minutes at which point it simply dropped it and continued the stationary flight. Earlier and soon afterwards there were 2 calling so it may have been a juvenile messing around.
Juliet Vines, a walker saw 12 Whooper Swans flying passed Treshnish Point (Mullbirds).
There were Otter spraits in the field to the north of Haunn field.
On the 19th there was 1 Golden Eagle over Treshnish wood and later there was calling which briefly landed in conifer overlooking the burn. This is a favourite resting place and a good spot to look for it from the farm-road up from the burn towards the public road.
During a walk to Ensay Burn mouth


I found this beautifully fresh Hazel Gloves fungus right by where I frequently walk.


This is probably Pannaria rubiginosa, a lichen.


It is another of the Ancient Woodland Indicator species and was found in Treshnish wood near the graveyard.
On the 18th there was a Golden Eagle calling loudly at Treshnish wood and 1 was seen but there must have been at least 1 more.
The problem with my spore identification of the Earth Tongue fungi (Geoglossum) is that it is mostly the size that counts so I have to wait until some measuring equipment for my microscope arrives. There are some cheaper home-made ways of microscopic measuring involving printing minute rulers you can find on the internet that needs a very fine printer and needs to be printed onto a transparent sheet but when accuracy is so important that a slight error might make the difference, I decided to take the easy way out and splash out.
I took several more lichen photographs in Treshnish wood. I find them beautiful but many don't so I will add them to the lichen gallery on the right although many are not identified yet.
I can't resist posting this one. Its name is Graphis scripta. I think you can see why!


Apparently its presence along with other Graphidian species e.g. Pyrenula occidentalis (photo on 13th), is an indicator of high quality woodland. You can read about it and download Lichens and Bryophytes of Atlantic Woodland in Scotland here and other lichen brochures at PlantLife.
This was what I thought could be Arthonia ilicina or one of the very rare lichens at Treshnish Arthonia excipienda or Arthothelium macounii, which look very similar. An expert has informed me that it is probably another species but so far it is unidentified.


On the 17th a Mistle Thrush was heard near Treshnish cowbarn.
I went to look at some abundant Pseudocyphellaria norvegica the rare lichen (see also photo on 13th) which Andy Acton had flagged for the BBC crew at Alt Hostarie. I couldn't find the flag tape but I am pretty sure I found the lichen.


There were many other lichens there. This is probably Leptogium burgessii


and at the Tostary bridge: this as yet unidentified lichen


Degelia cyanoloma(recently split from Degelia plumbea)


Possibly Degelia atlantica


possibly Leptogium burgessii


Hypoxylon fuscum (a fungus)


possibly Pannaria rubiginosa


Possibly Leptogium brebissonii


Leptogium burgessii


Degelia cyanoloma, the 'red spots' are the apothecia, the sexual fruiting bodies.


the colour in the centre could be the remains of slug grazed Hazel Fungus


Pannaria rubiginosa


Pannaria conoplea


Possibly also Degelia atlantica


possibly Pannaria rubiginosa


On the 16th there were 2 Mistle Thrushes beside Treshnish Old Schoolhouse.
There was 1 Ruby Tiger caterpillar by Toechtamhor cottage and another by Middle cottage, Haunn
On the 15th I was woken up to Golden Eagles calling over Treshnish wood. A pair were displaying and calling loudly over Treshnish wood. There was also another Golden Eagle further towards Calgary and I think that what was getting them more excited than normal.
About 1050 geese flew south in flocks of usually about 50 most over Treshnish point but some flocks over Ensay burn. This was only within about 40 minutes.
Tawny Owls were heard at midnight at Treshnish Old Schoolhouse.
Our House Martins should have been included in this survey, which came out today but we do not seem to be included. Presumably I got the record in too late for publication.
I have been told that I need to look at the spores of the Earth Tongue fungi (Geoglossum) I photographed on the 8th. A few days ago I collected the spores and last night looked at them.


Zoomed in:


The problem is that it still doesn't fit with this identification guide.
The most cells I can see are 4 which fits Geoglossum glutinosum but that should be slimy and scale-less and so does not fit. Further investigation is needed.
I am also trying to find out what these are.


I found them on the cliffs to the west of Lainne Sgeir, Calgary on the 11th. They were lying loose together on the ground. I thought they were Hare's Ear fungus Otidea onotica but the toothed edge had me perplexed and so I tried to get expert opinions. Apparently it is a kind of sedum. [P.S.Yes it is Roseroot]
On the 14th the pair of adult Golden Eagles over Treshnish wood.
On the 13th the Long-tailed Tit flock was still present around Treshnish wood near the Old Schoolhouse and a Tawny Owl was heard in the evening there. The adult Golden Eagles were heard and seen over Treshnish wood in the morning and most of the day one could be seen over Cruachan Treshnish.
The BBC came to film a piece on Atlantic Woodlands for the programme Landward, particularly highlighting the Hazel Gloves fungus and lichens. The interviews were very good and it should really help appreciation of this unique and rare habitat.
Andy Acton a highly experienced lichenologist was there and he showed me some of our rare lichens. This is Pseudocyphellaria norvegica which I knew was here but was never sure what to look for. It is a Nationally Scarce species for which we in Britain have International Responsibility because British populations are of European or global significance.


We didn't have a lot of time but Andy and Anna Griffith showed me these lichens all found within a small area:
Pseudocyphellaria crocata Yellow Specklebelly


Pyrenula occidentalis


and Collema subflaccidum.


This (if I have it right) has at least Pseudocyphellaria norvegica (the brown leathery one with white fringe) with Degelia atlantica (grey green) on top and tiny green disks Normandina pulchella on top of that.


They showed me many more but it was hard to follow all the scientific names and I was happy to grab just few out of their stream of identification. The ones I did note down were Degelia plumbea, Lobaria virens, Sticta sylvatica, Sticta limbata, Sticta fuliginosa, Thelotrema petractoides, Leptogium burgessii and Leptogium brebissonii. I just received the full list from Andy and Anna, who in a very brief visit, recorded 40 species, 2 of which were Near Threatened, 4 were Nationally Scarce and 19 for which we have International Responsibility!
On the 12th there was still a flock 8+ Long-tailed Tits in Treshnish wood near the Old Schoolhouse.
There were fresh Otter sprait on the old track below Shian cottage, (see 7th) so this is as I thought a regular Otter path.
At Treshnish lochan there was a female Common Hawker laying eggs, 2 Common Darters and 1 Black Darter which was extremely friendly.


This Sulphur Tuft Hypholoma fasciculare was in Treshnish wood.


On the 11th there was at least 1 Redwing and 1 Bullfinch in Treshnish wood and 8+ Long-tailed Tits by the Ensay Burn cattle-grid. Long-tailed Tits are scarce on Treshnish. They are on passage but in a good year some presumably stay for a few days because in 2008 we have records from 11th October to 1st November. There were no records in 2006, 2 in 2007, 7 in 2008 and none in 2009.
In the afternoon there was a Wheatear on the boulders where the Ensay road meets the coast and Twite on the hillside by Lainne Sgeir, Calgary.
There were 2 male Common Hawkers by the Ensay Burn cattle-grid.
This Brindled Ochre moth came to our window tonight.


I have only caught one of them before on 9th of October 2007 (notice the 2 day difference or similarity!).
This is probably Clavulinopsis fusiformis, Golden Spindles, found on the cliff edge near Lainne Sgeir.


It is similar to Clavulinopsis luteoalba Apricot Club and I am not certain of the identification.
I took photographs and a few samples of other fungi on the cliff top to west of Lainne Sgeir. This is Snowy Waxcap Hygrocybe virginea,


and this is Meadow Waxcap Hygrocybe pratensis.


On the 10th there were 2 Bullfinches (male and female), 6 Lesser Redpoll and 12+ Redwings in Treshnish wood. This is my earliest definite record of Redwing at Treshnish (5 on 7th October 2007 may have been this species).
There were 2-3 male Common Hawkers (including 2 fighting) along the farm road beside Treshnish wood, and a pair copulating at Treshnish lochan, 1 Black Darter at Treshnish lochan and 1 Common Darter along the farm road beside Treshnish wood and 1 at Treshnish lochan.
There was 1 Peacock and 1 Red Admiral butterflies and 1 Silver Y moth


along the farm road beside Treshnish wood.
This was found near Shian cottage, it is the caterpillar of Bright-line Brown-eye moth


This is a green one I found on 7th October 2007


The medium size oak beside the farm road through Treshnish wood is Pedunculate Oak. The leaves are very easy to identify. So we have both Pedunculate Oak and Sessile Oak (or Sessile/Pedunculate hybrid) in Treshnish wood.
This was east to identify, I just typed in Orange Peel Fungus into the search engine and voilà, Aleuria aurantia, Orange-peel Fungus, beside the disturbed ground at the new Treshnish water tank.


This could be Hygrocybe coccinea Scarlet Waxcap.


I also had ago at identifying some of my fungi photographs. This is a Fuligo septica, a Slime-mould, found on Cruachan Treshnish on 1st September 2010. Its common names are Dog vomit Slime-mould and Flowers of Tan.


This looks like another more beautiful Slime-mould, possibly Fuligo cinerea found in Treshnish wood on 11th April 2010.


This is probably Enteridium lycoperdon found at Penmore on 15th April 2010.


On the 9th there were 5 probable Bullfinches flying above Treshnish wood.
I have been informed that the black fungus I photographed yesterday is indeed a Geoglossum species (Earth Tongue) but I will have to look at the spores under a microscope to know which one. Apparently, the Mull Flora gives Geoglossum fallax as the common one on Mull. An identification guide to this group can be found here.
Rob Thomson and Ceris Jones, guests at the Sheiling, had 2 Otter sightings below Crackaig. One was up on the raised beach and earlier one was seen very close (3m!) and was calling, so presumably there was another nearby.
On the 8th there was a female Bullfinch in the morning on the Rowan by the nissen-hut beside Treshnish and 6 hours later there was also one there. There were 2 Greenfinches in the Studio rose hedge, a Siskin in Treshnish wood and a possible Lesser Black-backed Gull along the coast.
There was a Black Darter dragonfly sunning itself on the Studio doorstep and the first 2 Drinker moth caterpillars of the season at Treshnish Old Schoolhouse.


Whilst checking through photos on the internet I managed to identify some other recent photos. This is Chlorociboria aeruginascens Green Elfcup, which was found on Elm in Treshnish wood on 10th September


and this is Amethyst Deceiver Laccaria amethystea and was found on 25th of August in the woodland below Crackaig.


On the 7th there were several small flocks of Golden Plovers flying over Black Park field and Skoma field in a south westerly direction and there was a flock of 51 at Haunn (total of 116).


There were about 20 Twite in Black Park field, Haunn and 1 Lesser Black-backed Gull on Treshnish headland.
I found some Otter sprait on the old track below Shian cottage and today saw another beside the Studio dining room window. We have also seen Otters in the Duill/Shian field and below and also in Duill pond so presumably this area is on one of their regular routes.
There was a Common Hawker dragonfly in the east side of Haunn field.
Near the Otter sprait there was a few small black fungi which I went back today to photograph. I think it is Geoglossum fallax.

I examined the oak leaves from yesterday. Luckily I has some leaves from the small wood below Crackaig which our vice-county recorder had positively identified as Pedunculate Oak. The ones from yesterday are definitely not like those but they don't fit pure Sessile Oak either. I think they are hybrids. But at least now I know what to look for. One sure sign should be the long acorn stalk of Pedunculate. Pedunculate should also show some short veins on all the leaves. If the leaf stalk (petiole) is longer than 9mm that also rules out Pedunculate. A table to help identification can be found on the BSBI websitehere, (I think the lower row of leaves is missing the caption 'Quercus robur').
For some reason hybrids are given scientific names different from what you would expect. I haven't looked into why this is so but scientific naming follows certain rules dependent on the name given by the original describer and I presume the person who discovers the hybrid decides the name. So the hybrid between Quercus petraea x Quercus robur is given the scientific name Quercus x rosacea. Hybrids don't seem to have common names.
I checked on NBN Gateway and there are very few hybrid records on Mull so perhaps I am wrong and they are pure Sessile Oak.
On the 6th there was a Dipper at Ensay Burn mouth. I had hoped to see it there as this adds a new bird for Treshnish farm (it can be found near the 2 stone bridges on the main road further up the burn). I had presumed that it must sometimes come down as far as Treshnish wood but the wood is so dense it would be hard to see although the farm bridge looks like a good spot.
There were at least 5 Bullfinches in Treshnish wood, 1 Twite at Treshnish boathouse and at dusk a Tawny Owl was heard at Treshnish Old Schoolhouse. There was a Razorbill and Lesser Black-backed Gull off Ensay Burn mouth.
Just at sunset I saw a bird which looked very much like a Kittiwake and that is probably what it was but for the record it landed on the sea off Treshnish boathouse and it was slightly smaller than the other 10 Kittiwakes and kept at their edge. It also had a forked tail and a slightly more marked dark area behind the eye and was shorter necked.
There was a Mountain Hare near Treshnish boathouse.
There was a male Common Hawker patrolling above Ensay Burn in Treshnish wood and 1 Fox Moth caterpillar at Treshnish House.
I went looking at woodlands to come to come to terms with Sessile and Pedunculate Oak and to try to get photographs of Guilder-rose in fruit. I missed the Guelder-rose at its peak.


I was rewarded with a new Guelder-rose site which was not so steep and will be easier to photograph next year without risking life and limb. I was also rewarded with a new plant of Narrow-leaved Helleborine. I had looked at this spot in the spring and must have just stooped a few feet short of it. I would certainly never have expected to see one so healthy in October! It looks like it must have flowered. There were until now only 2 other plants in this area.


The Hazel Gloves fungus really are fresh at this time of the year.


On the 5th there was a Wheatear near the standing stone at Cillchriosd, near Sunipol. This is my latest date for Wheatear. Pam Rogerson saw 1 at Treshnish on 4th October 2008 and there was 1 at Langamull on 22nd October (Mull Bird Report 5).
There was 1 Bar-tailed Godwit and about 10 Dunlin at Langamull beach, 1 White-tailed Eagle in Langamull forest and 60 Oystercatchers at Calgary beach. A flock of about 30 geese flew around Caliach Point and apparently tried to land on the water off Langamull.
There was a patch of Field Gentians at the shore near Cillchriosd, some flowering (this is a new site).


At the same spot there were also some unusual looking fungi to identify.


On the 4th a Sparrowhawk flew in hunting mode into the apple orchard in Treshnish wood. There were 40 Kittiwakes on the water at Lainne Sgeir, Calgary and 50 Oystercatchers at Calgary beach.There were 3 Eiders and 1 Guillemot near Calgary pier.
There was an Otter at Lainne Sgeir (I think there must be a holt there as that is the second time this fortnight I have seen it disappear behind the rocks there).
On the 3rd there were still 1 or 2 Swallows over Treshnish wood, so my prediction from yesterday was wrong. This is the latest date we have for Swallows here, the previous latest being on 26th September 2008. Although further afield there was one juvenile seen at Tobermory on 7th November 1983 (Argyll Bird Report 1:60)! There was also a flock of about 5 probable Bullfinches over Treshnish wood.
The Grey Pover was still on the rocks at the south end of Calgary beach.


There were 3 Red-throated Divers in Calgary bay (1 off Ensay Burn mouth, 1 off from where the Ensay road comes near the coast and 1 near Calgary beach). There was also 1 Razorbill near the shore and 1 Eider off the pier (there have been 3 or 4 present of both these 2 species on all visits during the last fortnight).
There was a Common Hawker dragonfly near the farm-road through Treshnish wood. The latest date I have for this species is 17th October 2006 and most years it is seen into the second week of October.
Disappointingly, this year the RSPB does not appear to be offering any satellite tracked Ospreys for public viewing so the only remaining Osprey still transmitting is one year old Rothes who has not yet returned to Scotland from her 'wintering' grounds in Guinea-Bissau, west Africa.
There is one Finnish bird that is being tracked. It can be followed by 'adding' this URL http://www.luomus.fi/info/maps/saaksi_jukka_2010_syksy/kml.php into Google Earth (that link won't work on its own). Right now the bird is beside a river in the wooded outskirts of Ostroleka, north of Warsaw.


Two more Mull White-tailed Eagles are also being tracked but so far they are not visible on Google Earth although maps of their movements can be seen here. Incredibly, Midge a male, is already exploring as far as Knoydart, north of Malaig. Both of last years chicks are not transmitting any more: Oran almost immediately after flying to Moray; and Venus, 7 miles south of Oban. The previous years birds are still fine: Breagha was last recorded to the west of Loch Awe and Mara, as usual, was on Morven.
On the 2nd there was at least 1 Swallow over Treshnish wood in the morning and 1 over the woodland near Treshnish cowbarn in the afternoon. There were no sign of the others so presumably they have gone and all will be gone by tomorrow.
There was a flock of about 30 Twite including at least 2 Lesser Redpolls in Black Park field between Treshnish and Haunn.
Today I received the identifications of some plants I sent to the vice-county recorder. I was right that I had previously misidentified 'Northern Dead-nettle' in the vegetable garden. There are actually 2 species involved Cut-leaved Dead-nettle and Red Dead-nettle (the former is rare on Mull). A second problem was 2 plants of agrimonia species growing virtually side by side near the wood below Crackaig. They looked like both Fragrant Agrimony and Agrimony but growing so close gave me doubts. But I am relieved to find out that they are both there and my identification is correct. If not I would have to have got down to microscope work! I had the fruits which should be easy and it was. just needed the confirmation.
A third plant was a bladderwort which didn't look like any of the species in the book. I though probably I was making a beginners blunder but apparently this sample is going to have to go another expert for identification. Fun!
On the 1st there were at least 5 Swallows around Treshnish House. There was 1 Mistle Thrush by Treshnish Old Schoolhouse.
In the late afternoon Pam Rogerson saw a male & female Golden Eagle hunting over Cruachan Treshnish.